The longevity of your site is a key quality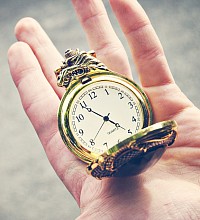 The importance of time for your website
Search engines

Prefer to see that a site has reliability and longevity. 
They like to see that your content is updated on a regular basis and is not just forgotten.
Like to see that your site has had the time to have people talking about it and linking to it from around the web.


Readers
 Will benefit when you have gained the experience necessary to answer their questions on the web in a well organized and effective manner.  
Also like to see that your site has longevity and will look for other people talking about your product and service on the internet. 


Tips 
You website is like a living entity. You should strive to keep the content up to date and to be adding links and other relevant information. Don't forget to republish your site in order for these changes to be seen by readers and Google. 
Keep checking on forums, blogs and new sites that deal with subjects similar to yours. You will be able to get current information and also be able to talk about what you do and leave helpful advice that leads back to your site. 
If you plan on buying your own domain name it is wise to pay for a few years in advance, this is a good way to show Google that you plan on being around for the long run.
How often do I need to update my site?
We recommend updating your site every 2-3 weeks by adding new content and experimenting with texts and titles on your site based on your site's performance in search engines and feedback from your readers.