Other Sites Linking Towards Your Site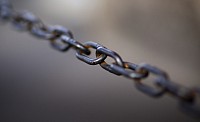 Links make sure you site does not exist in isolation
Links to your site help readers find you
These links create opportunities for your readers to find you while they are browsing other sites. Search engines also perceive your site as being more useful if they see that other sites link to it.
The more high quality links you have to your site, the more trusted it will be by search engines
In their quest to determine what is important and relevant on the web, Google and other search engines rely on many parameters. It is important for Google to see that other sites find your site worth linking to. One of the best ways to be referenced search engines is to have links coming to your site from other sites.
However, you need to be careful when trying to generate links towards your site. 
Exchange links wisely
Be careful not to blindly exchange links. It is a common practice, but Google understands when the content of a linking site is relevant, and gives priority to this type of link. Make sure that the subject, services offered, or keywords are very similar between sites that are exchanging links. Links from sites with irrelevant content are not helpful for Google, and they can also cause confusion for your visitors. 
Think about your readers first, the links that are useful for them will also be useful for search engines.
Forums, Blogs & Comments
A website owner will often leave comments with a link to their site on forums and blogs. Often such comments are more in the interest of the site owner than in the interest of the readers of these blogs and forums. Posting irrelevant comments just to promote your site is a type of spam. A sure way to have your message erased is to be perceived as a marketing freeloader. It can even get you blacklisted from sites.
Having said this, leaving comments on blogs and forums can be a good way to promote your site, providing your comments are relevant to the content of these blogs and forums. For example, if someone in a forum is actively looking for a product or service you provide, you may help them by suggesting your website.
Blogs & reviews talking about your site
The best links to your site are created when the editor of a Blog or an online magazine writes directly about your site, leaving your link for their readers.
Be aware that some bloggers may ask for money in exchange for writing a review. Their review may still be unbiased, but "paid links" are rarely as beneficial as the ones which come about naturally. Search engines understand solicited support and can spot it easily. Even if it they take longer to recognize a paid link, they will eventually. Think about the long term benefits for your site. 
If the topic of your site is a subject that you believe a blog or a magazine would like to report on, write to the editor. 
If you find articles that are a good source of information about your activity, contributing useful comments below the articles is a good idea. Linking to these articles can be a good way to get noticed, and the author may link back to you.

And of course, if you have the writing bug,



Start your own Blog
It is a difficult but exciting enterprise, which takes time, regular updates, and a hint of talent. It is also one of the most beautiful and effective ways to share your expertise and to encourage a dialogue between your readers and yourself. All the while talking about and promoting your own business.
A good start within your own site are the Blog pages in SimDif.

The "no follow" anti-spam measure 
The above information and tips are true for human readers and getting real people to come to your website. However many blogs and social networks have a type of code called "no follow" that is used to tell search engine robots to not follow this link.
Placing hundreds of links on Facebook or on many blogs and forums will not have an effect on the way search engines see your site.This is done on purpose so that spamming sites with irrelevant comments and links is not useful. Thus, to some extent, preventing this type of behavior. 
Read more about this in the page about Facebook, Instagram and other social networks.
What links to my site are the best ones?
The best links are links from reputable blogs and articles or reviews in online magazines.

Links in genuine reviews are also more valuable and useful that links in paid promotional articles. Search Engines are able to detect paid content.
Can I ask other people to post links to my site?
Yes, asking friends to post links to your site in blogs, forums and comments can be a good way to promote your site.

However, it is necessary to be careful, as posting links to your site in irrelevant messages or without any connection to content of blogs or questions can be considered spam and will most likely harm your site.