The SimDif SEO Directory helps search engines understand your site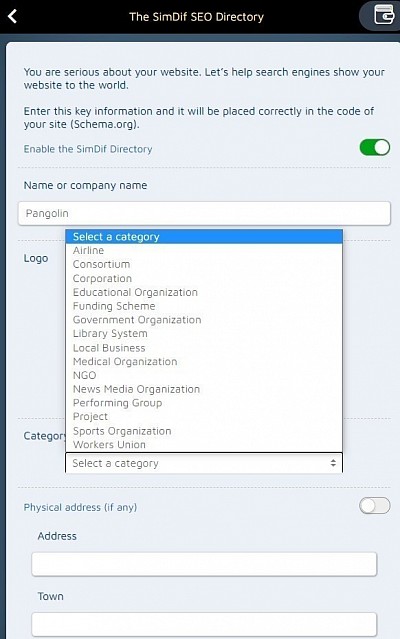 The SimDif SEO Directory lets you choose and insert metadata to explain basic details of your business to search engines.
The SimDif SEO Directory improves your presence in search results
The SimDif SEO Directory is a powerful tool to help search engines understand what you offer and where.
With the help of the metadata you fill in our Directory search engines will be able to recommend your site to people who will most likely be interested in your service or product.
The words you choose in the SEO Directory will not appear on your website or in search results, but will be taken into account by Google when it decides what sites to recommend to its users.
In the Directory that is available in Smart and Pro a SimDif user is able to choose the category his or her business belongs to and add company name and address, if applicable.
The SimDif SEO Directory is based on Schema.org project
Schema.org is a collaborative project by a number of major Internet companies including Google and Microsoft aimed at creating vocabularies that can be used by all kinds of websites to improve their performance and understanding between different Internet-based services.
FAQ
How do I fill out the SimDif SEO Directory?
How does the SimDif SEO Directory make my site more popular?